iKE ALLEN & Ande Anderson Present AVAIYA Teacher Simon Borg-Olivier: Posture, Movement, Breathing and Mental Control to Overcome PTSD
Can't see the video? Try clearing your cache, refreshing the page, or opening this page in a new browser.
To receive 30% off, you'll need to enter this coupon code upon checkout: yt30sbo
We know it can be difficult to watch ALL 30+ Video Classes during the 10-day event, so we'd like to offer you a limited-time opportunity to OWN them all (plus all Audio Classes to listen to on your phone, while you're on the go) for less than $1.00 per class right here.
Simon is co-director of YogaSynergy, one of Australia's oldest and most respected yoga schools with a style based on a deep understanding of yoga anatomy, yoga physiology and traditional hatha yoga. He is a registered physiotherapist, a research scientist and a University lecturer. Simon has been regularly teaching internationally since 1982. Simon has been regularly invited to teach at special workshops and conferences interstate and overseas since 1990. 
DISCLAIMER: The information in this program and on this site is not intended or implied to be a substitute for professional medical advice, diagnosis or treatment. Please read the disclaimer found HERE.
iKE ALLEN & Ande Anderson Present: Overcoming PTSD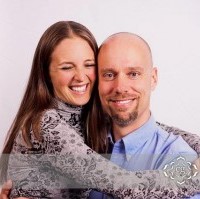 iKE ALLEN & Ande Anderson, MS, RD are the Co-Owners of AVAIYA University & Enlightenment Village. AVAIYA University & Enlightenment Village create films, courses, and online conferences such as Healing From Childhood Trauma, Overcoming Chronic Pain, The Tao of Quantum Physics, Overcoming Insecurity & Low Self-Esteem, The Truth About Prosperity, Overcoming Codependency, Breaking Free From Abandonment & Betrayal, A Course in Miracles The Movie, Believe & Receive, Overcoming Narcissistic Abuse, and many more.
Hundreds of thousands of people from across the globe have attended AVAIYA University's past online conferences! Lives have been transformed and the feedback they've received has been so incredible that they continue creating life-changing, educational events for you and others to tune into and learn from.
In a world often viewed as problematic by many, AVAIYA believes that what we each focus on and present to the world creates what is reflected back to us. Because of this philosophy, AVAIYA creates only POSITIVE media, online conferences, and workshops to share with the world.